Legal Practice Management Software

The Matter Manager Keeps Your Firm Organized
The Matter Manager shows client profiles and a timeline of activity. Find emails, documents, fees, appointments, costs, and research notes all in one place. Pull up a billing summary to see the billing status and the client's trust account balance.

Legal Calendaring Made Easy
View appointments by day, week, or month with a firm-wide calendar for everyone in your office. Find appointments fast by color-coding them by staff member or type of activity. Drag and drop to reschedule events. Integrates with Outlook®.

A Better Conflict Checker
"PracticeMaster has a wide range of functionality. Creating and sharing documents, sending notifications to coworkers, and tracking billable hours are all possible without any add-ons that muddy the experience."
Ben Hammar, Law Clerk
Atwood, Holsten, Brown, Deaver & Spier Law Firm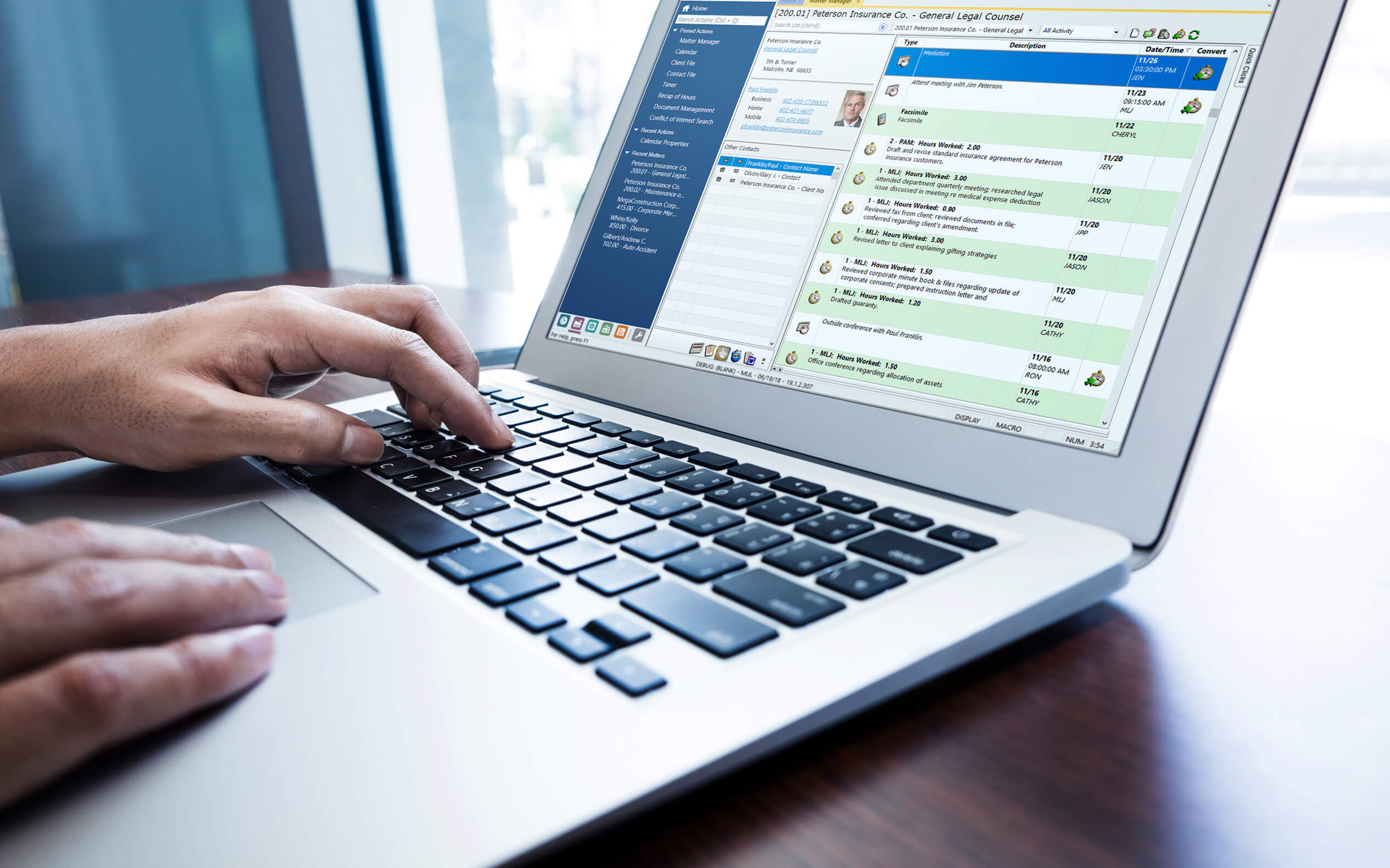 Simplified Legal Document Management
Let PracticeMaster name and file documents for you so nothing gets lost. Effortlessly import your data to get started. Use the PracticeMaster plug-ins to save documents from Word, Excel®, Windows Folders, or Adobe® Acrobat/Reader.

Legal Document Automation That Saves Time
Pull information from PracticeMaster to fill forms and contracts with PracticeMaster Document Assembly (Microsoft® Word required). You end up with a high-quality first draft to review. PracticeMaster Document Assembly can automatically bill for any document. PracticeMaster also integrates with HotDocs®.

Mobile Access with Tabs3 Connect
Upgrade to the Platinum Edition to securely enter your time, see your calendar and tasks, and review any matter while you are away from the office with Tabs3 Connect. Log in from your smartphone, tablet, or any computer with an internet connection. Compliant with both iPhone and Android.

Easily Customize Client Entries
Collect client data for your different areas of practice. With the Area of Practice templates, update client entry pages based on matter type. This creates relevant data fields for the matter arranged the way you want them.
"PracticeMaster has helped our family law and estate planning firm manage both professional and client contacts. The document management functionality has all but eliminated issues regarding misplacement of files . The ability to utterly customize the forms for clients and contacts is much appreciated, and the syncing between Outlook and PracticeMaster works flawlessly."
Josieda Lord, Office Manager
Conner Lawrence Rodney Olhiser & Barrett LLP
"We are impressed with the ability to customize PracticeMaster to meet our firm's needs. We have taken significant advantage of the new features offered in Document Management as well as the WorkFlows."
Cindy Fink, Director of Operations
Michael Sullivan & Associates
Tracking Client Information Made Easy
"We considered other products but chose to work with Tabs3 because their two solutions provide a single, integrated way of tracking client information. With PracticeMaster and Tabs3, we can work more efficiently."
– Michael Slavin
      McHale & Slavin
It is essential for McHale & Slavin, intellectual property firm, to track docket submission dates so no deadlines are missed, and to centralize document management for easy access across the firm. For this complex task, the firm turned to Tabs3 Billing and PracticeMaster. Click here to find out how they were able to use our integrated software to help minimize errors and centralize data for attorneys, paralegals, and billing personnel.
Tabs3 and PracticeMaster Boost Efficiency and Profits
"Tabs3 Billing and PracticeMaster help us work more efficiently, and when we are more efficient, we can be more profitable."
– Steve Quinn
     Stretz/Quinn
Continue reading to see how Tabs3 Billing and PracticeMaster help Stretz/Quinn automate data flows, streamline end-of-month billing reconciliation, enable senior management to easily analyze billable time per resource and per client, and more to make the firm more efficient and more profitable.
How long does it take to check for a conflict of interest?
Using PracticeMaster's proprietary indexing, the average conflict of interest check takes a matter of seconds.
What is an "active user?"
An "active user" is someone who is logged in to PracticeMaster at a given time.
What is Document Assembly?
The Document Assembly feature in PracticeMaster lets you instantly assemble documents. Set up a template for a document with placeholders for specific types of information, such as client name, client address, or judge. PracticeMaster then inserts the relevant client and case information in your template to produce a new document.
How does PracticeMaster integrate with Outlook?
PracticeMaster can sync contacts and calendar appointments with Outlook. PracticeMaster plug-ins in Outlook can remind you to track the time you spend on emails. It can also save emails into a client's matter file in PracticeMaster.
Can I use PracticeMaster on my phone or tablet?
There are two ways to use PracticeMaster on your phone or tablet. If you integrate with Outlook, you can synchronize contacts and calendars between PracticeMaster, Outlook, and your phone.
If you don't integrate with Outlook, you can use Tabs3 Connect. Tabs3 Connect is a Platinum feature that provides access to Tabs3 and PracticeMaster via the internet.
There are apps to download—simply log in using your phone, tablet, laptop, or offsite computer. Tabs3 Connect gives you access to your client and contact information, fee and cost entry, personal and firm-wide calendar, and more. On phones and tablets, you can tap to create a fee, and flick to scroll through a list. Tabs3 Connect was designed to protect attorneys' sensitive information. The information you access using Tabs3 Connect is secure because it resides on your office server—and nowhere else. Learn more about Tabs3 Connect.
How can I organize what I see in a calendar?
PracticeMaster helps you find what you're looking for faster. Locate the information you need by color-coding appointments by case, employee, or practice area. You can also select whose calendar shows up on your screen—everyone in your law practice, or the people working on a specific case.
How does PracticeMaster integrate with Tabs3?
PracticeMaster and Tabs3 automatically synchronize your client's contact information. Fee and cost entries that you create in PracticeMaster flow into Tabs3 Billing Software.
Does PracticeMaster work with WordPerfect?
PracticeMaster does integrate with WordPerfect via HotDocs. For detailed information, email sales@tabs3.com or call (402) 419-2200.
How do I purchase CalendarRules Court Rules?
If you would like to subscribe to CalendarRules court rules, you can request a quote here or send the list of courts desired (the more specific, the better) and mention that you're currently using PracticeMaster to info@calendarrules.com.
Can I view other people's calendars?
Yes, PracticeMaster lets you see and schedule appointments for other people in your office without the expense of a Microsoft Exchange Server. PracticeMaster also gives you security settings to limit those who see appointments for certain attorneys or clients.
What programs does PracticeMaster integrate with?
You can see the list of software that integrates with PracticeMaster by clicking here.
Can I use PracticeMaster to organize my documents?
PracticeMaster includes Document Management. This feature allows you to create a convention for naming and saving documents for your firm, and then let PracticeMaster save and name them automatically from programs like Microsoft Word, Adobe, or Outlook email attachments. Import any file, or batches of files, to PracticeMaster by right-clicking and selecting "Send to PracticeMaster."
What are the benefits of a maintenance plan?
Even the best legal billing software requires support and maintenance over time. A Maintenance Plan provides free technical support, software updates, and substantial discounts on upgrading Tabs3 Software to allow more users or gain more features. A Maintenance Plan or monthly subscription is required to use Tabs3 Software.