Tabs3 Newsletter
Our newsletter is a resource for quick tips and insight into useful features. In addition to covering topics such as billing statement, backing up the software, and new software releases, our team also answers questions from law firms every month. You can access the newsletter directly at newsletter.tabs3.com. On the 15th of each month we also send a notice of the new articles that have been added. You can also always find the Newsletter at Help | Internet Resources | User Newsletter from within any Tabs3 program.
Here's a preview of our online newsletter: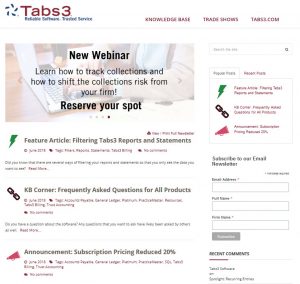 The home page is where you can find the current month's articles. We also have article categories such as Feature Articles, Quick Tips, Announcements and more.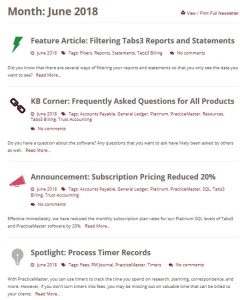 You can easily search within the User Newsletter to view more articles or find a topic of interest. We have an extensive archive that allows for robust searching and browsing. This can be a great resource for quick and easy information. If you don't find what you're looking for, feel free to email us at newsletter@tabs3.com.